KlezmerPlaybook CLUB & KlezWeCan e.V. invite you to

---

Join us for a summer weekend full of klezmer music in a wonderful seminar house in Wendland in the midst of beautiful nature! After endless months of the pandemic and many online workshops, we want to meet in-person and finally make music TOGETHER with all of you!
Szilvia Csaranko (accordion)
Susi Evans (clarinet)
Johannes P. Gräßer (violin)
The official promoter is KlezWeCan e.V. from Erfurt, with whose philosophy we feel closely connected:  www.klezwecan.de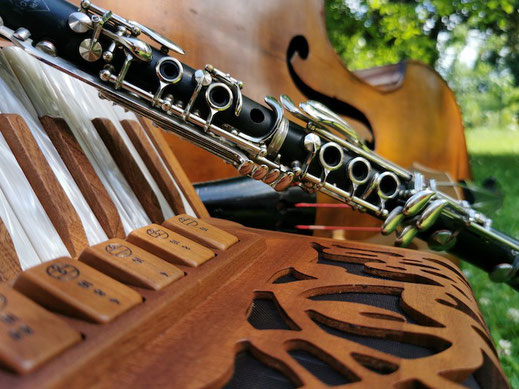 ---
Seminarhof Drawehn in Wendland/Germany
www.seminarhof-drawehn.de

Arrival: Friday 1st July from 4pm
Departure: Sunday 3rd July 4pm

If you can't arrive until later on Friday (e.g. work, long journey), that's no problem. Unfortunately, it is not possible to participate just for the day. You can find directions on the website of the Seminarhof. We try to organise a pick-up service from the train station in Schnega and help those who need it find a lift. Email us if you travel from outside Germany and need help with planning your trip.
In principle, participation in the Klezmer Summer Gathering is open to all klezmer-loving instrumentalists aged 16 and over. Ideally, you own the Klezmer Playbook and/or regularly attend our CLUB online workshops, but this is absolutely not mandatory. Everyone is cordially invited to spend a great summer weekend full of klezmer music with us!


Please note: participating with diatonic and drone instruments is a bit difficult because klezmer music has many accidentals and we play in all keys. If you want to participate with piano or percussion, please contact Szilvia (mail@shades-of-folk.com) as these instruments can only participate in limited numbers.


This is all about playing klezmer music - sometimes all together as a large orchestra and sometimes split into smaller ensembles, indoors and outdoors. We will talk about arrangements and give tips on ensemble playing. We will get to know the typical Yiddish dances by dancing and playing along. There will be opportunities for jamming, and of course we will enjoy the beautiful summer weather and end the evening comfortably by the fire.

Our repertoire for the weekend will be the 50 melodies from the Klezmer Playbook. Ideally, you already own the Klezmer Playbook and/or regularly attend our online workshops, but this is absolutely not obligatory - we can bring a spare book for you.
You should know your instrument reasonably well and be able to play simple melodies from sight or by ear. Ideally, you own the Klezmer Playbook and can already play some of the melodies (but owning the book is not a prerequisite for participation). You will receive a short repertoire list in advance, so you can prepare yourself. We can divide the group in various ways. There will definitely be a "slow & easy" group as well as an ensemble for the more advanced players. And let's see what else we can think of. If you've never played in a large group before, you'll be amazed at how easy it is and how much fun it is!
Participation fee Standard: 370 € | Reduced: 250 € | Patron: 370 € + a contribution of your choice | (single room supplement +40 €)
The exact price breakdown can be found in the registration form.
You pay a course fee as well as two nights with full board in a beautiful seminar house. Unfortunately this comes with a price and we would also like people with lower incomes to be able to participate, which is why we have a tiered pricing model. If you feel able to make a higher contribution you will enable people with very little financial means to participate, and for that we really appreciate your generosity!
If you can't afford the reduced entry fee yourself - and we really understand! – please write us an email and we will find a solution. Please also ask friends and acquaintances if they can offer any financial help.
Please fill out the Google form. You will then receive an email from us with the payment details and further information. Your registration becomes binding as soon as you transfer a deposit of 150 €. The remaining amount is due on 3rd June, 2022. We recommend a seminar cancellation insurance before you register.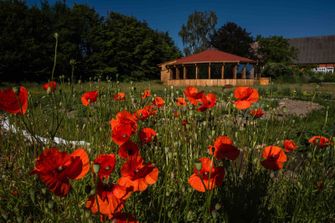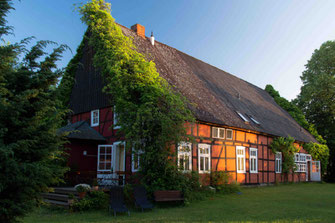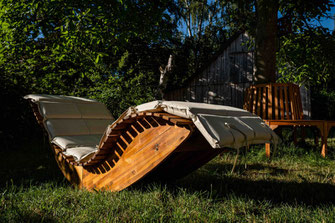 The current conditions of participation for workshops of KlezWeCan e.V. apply (read here). We have developed a hygiene concept that must be observed by everyone involved. The currently valid rules will be announced on site. In principle, anyone who has recently contracted COVID-19, had a positive test for COVID-19, shows typical symptoms or has come into contact with affected persons is not allowed to participate! Current travel conditions and local regulations (Germany/Lower Saxony) apply.